New School Minibus with Thanks to the Variety Club of GB and Artist, Mackenzie Thorpe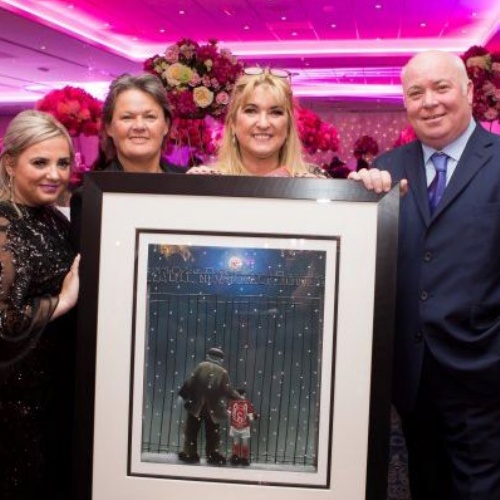 We are delighted to announce that our school has taken delivery of a brand new minibus. This tremendous achievement has been accomplished with the help of parents, with help from the Variety Club of Great Britain - through the support of Mandy Molby, Claire Gallagher and Lyn Staunton -Development Director of Variety North West Region, and the terrific sponsorship from MACKENZIE THORPE, well known British artist who has decorated the new bus with his signature paintings. Mr Phil Mulvaney, former member of staff at Hilbre, also fundraised a significant contribution. Hilbre thanks every one of them for their superb support.
The mini bus will be a huge asset to the school.
In the minibus fundraising evening, a highlight was the donation of fifteen original prints and one large print from world-renowned artist Mackenzie Thorpe. The limited edition prints depict a father and son standing in front of the famous Shankly Gates at Anfield; home of Liverpool FC. The funds raised by Mackenzie's art work have directly funded the Hilbre High School Variety Sunshine Coach.
We were thrilled to see the story given coverage on the Granada News website, which you can visit by clicking here.