West Kirby Grammar School Tennis Match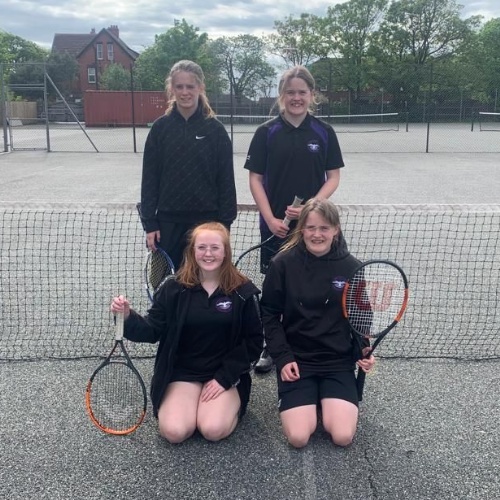 Four of our tennis team faced their first Tennis tournament at West Kirby Grammar School.
On Thursday 12th May, the year 8 tennis team made their competitive debut in an away fixture against West Kirby Grammar School. The players involved were:
Jasmine Blase
Jessica Blase
Leila Vesey
Athena-Rose Nash
The match involved four singles matches, followed by two doubles games. Jasmine faced an incredibly tough 'top seed' match, which went to tie-break which the opposition eventually took. On court 2, Jessica outfought her opposition, with a 4-2 victory. Court 3 and 4 saw Leila and Athena play their FIRST ever tennis match! Whilst the oppositions experience saw them take the victories, they both did themselves proud, playing some wonderful shots and making the games incredibly competitive. Moving into the double's games, Jasmine and Athena for game one and Jessica and Leila for game two. Both matches were closely fought, and points won all round. However, the experience of the opposition was too much in the long run; both games finishing 4-2 to West Kirby.
From Mr Britton:
"As their coach, I couldn't have been any prouder of the performance, attitude, and behaviour of our team, especially when you consider the team was only formed two weeks ago! I am confident that the team will go from strength to strength with more practice, games, and experience. Onto the next match!"