Sixth Form Open Evening Thursday 8th December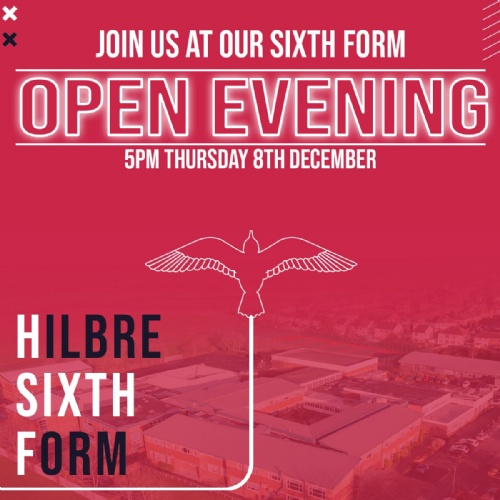 We are delighted and excited to announce Hilbre's Sixth Form Open Evening, which will take place at the school on Thursday 8th December 2022 between 5pm – 7pm.
As Year 11 students, it is crucial to be able to make informed choices when selecting courses and destinations following the GCSE examinations. Our Sixth Form Open Evening will offer the opportunity for you to meet the Sixth Form team, visit each subject area and see the facilities available to our Sixth Form students.
Hilbre Sixth Form now offers more courses at Level 3 than ever before and provides an amazing enrichment opportunities and personal support for all students to achieve excellent outcomes.
Please join us to meet the various subject teachers and find out which academic, vocational or performing arts qualifications we have to offer. There will be formal presentations from the Mr Bellamy and Mr Hellier to explain entry requirements and more about Sixth Form life.
Presentations will start promptly at 5:00pm in the Main Hall.
There will be festive refreshments available in the Sixth Form centre, and we very much look forward to seeing you all!