Hilbre Presents Roald Dahl's Matilda Jr. The Musical - Get Your Tickets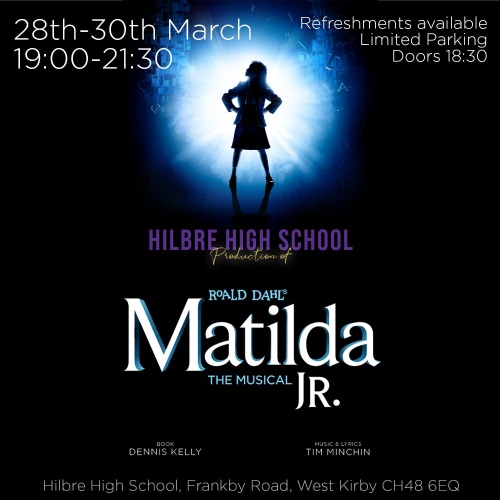 We're absolutely delighted to present this year's Hilbre High School production;
Matilda Jr. The Musical
Tickets can be found here:
Hilbre High School - Matilda Tickets
The production will run from Tuesday 28th March to Thursday 30th March
The shows start at 7pm with the doors opening at 6:30pm
There will be a short interval for refreshments and raffle tickets
Please note, you will need to show your confirmation email on the night to gain entry.
If you do not wish to pay online, please contact financeoffice@hilbre.wirral.sch.uk or visit the school office.
There is disabled access to the hall. Please email schooloffice@hilbre.wirral.sch.uk with any disability/access needs.
There is limited parking on the schools ground, and we ask that you be respectful to the surrounding residents when finding parking.
Refreshments and snacks will be available on the night.
There will be a raffle each night.
Toilets are accessible.
CASH AND CARD ACCEPTED
(minimum card spend is £1)