Examinations Summer 2021/Teacher Assessed Grades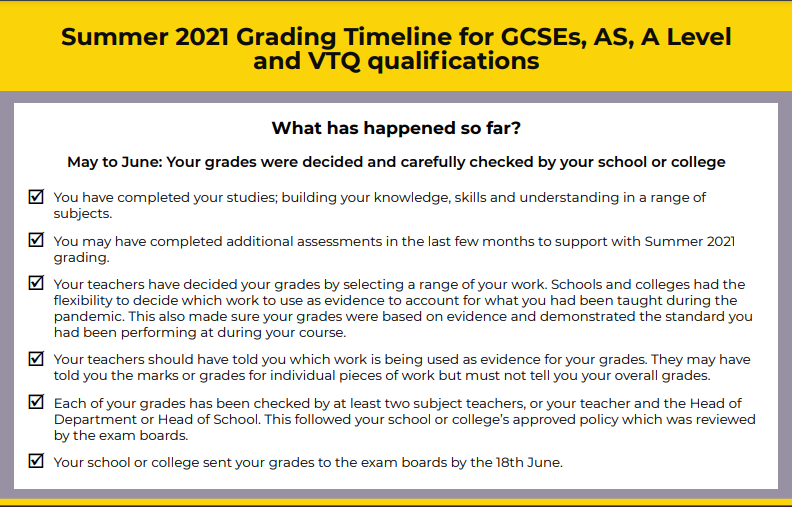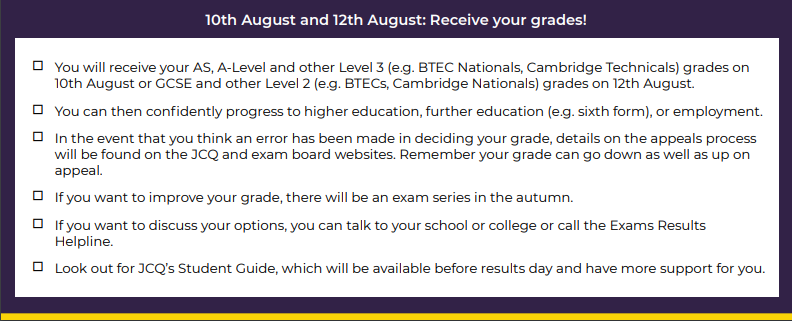 Background : Summer 2021 Exams
At the end of February, the government announced the arrangements for students to achieve their grades this summer. Since Easter, schools and colleges have received more detailed information for each specific course and exam board. We can confirm that all courses to be certified this academic year will be given grades assessed by the work that they have and will complete over the next few months. These grade, which will be submitted to the respective exam boards, are called Teacher Assessed Grades (TAGS).
We used a broad range of evidence, teferred to as a 'basket of evidence', to determine the grades before we submit these to the exam boards by 18th June.
At school we assessed students' performance, only on what content had been delivered by their teachers.
Teachers determined the grades as late in the academic year as practicable and this was not confined to a defined window, to enable teaching to continue for as long as possible.
Teachers took a holistic approach when determining final grades and had a dialogue with students about their current working grades and students had the opportunity to do gap assessments. They did NOT however, discuss and share the final grades they submitted.
Examination Results days have now been confirmed:
10th August for A level exams
12th August for GCSE exams. The 12th August will also be Sixth Form Registration day for Year 11 students.
Other information sources:
We strongly advise you to refer to the Ofqual website and have attached their guide for students for exam grading summer 2021. https://www.gov.uk/government/organisations/ofqual
The respective exam boards also have useful information and video updates for both students and parents or legal guardians:
OCR : https://www.ocr.org.uk/everything-you-need-to-know-for-summer-2021/students/#summer-2021
AQA: https://www.aqa.org.uk/news/coronavirus-and-exams
Pearson/Edexcel Support for students, parents and carers. There is also a link on their webpage to sign up to the parents and carers newsletter. https://qualifications.pearson.com/en/campaigns/summer-2021-support/support-for-students-parents-and-carers.html?utm_source=ealertpqb5&utm_medium=email&utm_campaign=GBEDGS0121COVID
Rock School/ RSL : Examination Update: COVID-19 - RSL Awards https://www.rslawards.com/examination-update-covid-19/ WJEC/EDUQAS : https://www.wjec.co.uk/home/assessments-2021-get-the-support-you-need/summer-2021-changes-to-assessments/