Exams Update 2022-23
Exam Certificates. Summer 2022 Examinations
Students can come into school to collect and sign for exam certificates from Monday 5th December 2022. If a student is not able to come in personally and would like their certificates to be collected on their behalf, we will need their signed permission. We also ask the person collecting to bring proof of identity. JCQ require schools to keep certificates for 1 year only - however Hilbre High School do hold on file uncollected certificates for students who certificated in the last 3 years.
Certificates should always be retained - never destroyed - and stored in a safe place. Replacement certificates can only be requested from the respective exam boards and the exam board will charge approximately £40 per certificate. Gov.UK : Replacement Exam Certificates
January 2023 Exam Series
Students sitting vocational exams will receive exam timetables in November 2022 and their exams are listed on Edulink/exams tab.
Summer 2023 Exam Series
JCQ awarding bodies have now published their final timetables for the summer 2023 examination series. These include GCSE, A level and vocational examinations. The first A Level and GCSE exams in the summer series start the week commencing 15th May 2023. Individual timetables for the respective exam boards can be found on the awarding body websites:
Hilbre High School will issue personalised timetables to students in due course and all exams are updated on Edulink/Exams tab.
Dr Jo Saxton, Chief Regulator Ofqual has published an open letter to students doing exams in 22-23. You can read the letter here.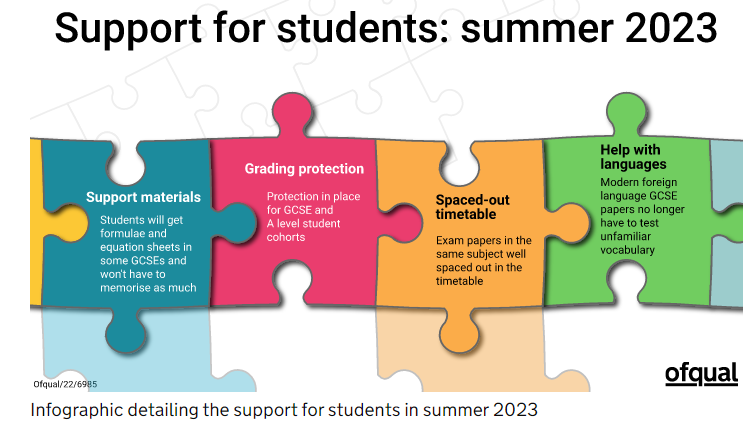 JCQ Contingency days : summer 2023
JCQ have confirmed that these are now timetabled for the afternoons of the 8th and 15th June as well as the day of 28th June 2023. These contingency days are designed to be used in the event of national or significant local disruption to examinations.
This is the information and guidance from JCQ:
Summer 2023 contingency days. The awarding bodies have collectively agreed a contingency day for several years now which is always scheduled at the end of the GCSE, GCE AS and A-level exam timetables. The contingency day is in the event of national or significant local disruption to exams in the United Kingdom, being part of the awarding bodies' standard contingency planning for exams.
Following the Covid-19 pandemic, further resilience was needed within the exam timetables. A single contingency day was not felt to be sufficient if a national event or incident had a significant effect on the exam timetable. For example, summer exams could be affected by extremely high temperatures.
For the June 2023 exams, the awarding bodies have therefore introduced two additional half-day contingency sessions. These are on Thursday 8th June 2023 and Thursday 15th June 2023. The standard contingency day remains at the end of the timetable being scheduled on Wednesday 28th June 2023.
We therefore strongly advise that students do not book any holidays/events until after 28th June 2023.
Exam Results Days 2023
The DfE and Ofqual have confirmed that the summer 2023 results days will be one week apart as usual.
A-level and Vocational results will be published on Thursday 17th August 2023
GCSEs will be on Thursday 24th August 2023
Post-Results Guidance
If you're unhappy about an exam result, you can request a clerical re-check or review of marking ('reviews of results'). In order to do this, you will need to give your consent and complete the JCQ Declarations - we will then contact on your behalf, the respective exam boards. We do need your written consent and so you will be guided by school and will be sent the relevant JCQ forms.
What's available
University place pending
If you have a university place pending, we advise that you request a priority review of marking (sumer series only). If you do not have a university place pending, you can request a:
You will receive more information about these services and any guidance you may need on results days and for more information from the exam board, you can use this link to the AQA webpage. The service is standard across all exam boards. Request for papers and review of marking
Exam Boards and Revision Guides
A list of all exam subjects, exam boards and revision guides can be found in the attached documents.
Information for students : Resources published to support students
Contact information:
Mrs A Lightfoot, Exams Officer : examoffice@hilbre.wirral.sch.uk