Home 'Remote' Learning
Studying from Home: Remote Learning
What do I do if I have to study from home?
If you are off school, for example because you are having to isolate, then you must do all that you can to keep up your studies.
It is our expectation that you will work from home and study the same lessons you will have in the same day that you would usually be in school.
If you are absent and need to study remotely, your teachers will put work on Teams for you to complete.
To access your work and know what to do, you must use Microsoft Teams
To learn how to use Microsoft Teams and how to access your Remote Learning resources, you need to watch the video below.
You can also use this Microsoft Teams at Hilbre Student Guide to see what to do. Information from this guide is outlined for you below.
Click on this link to access the Microsoft Teams at Hilbre Student Guide.
For further information on how to access Microsoft Teams, please click on this link.
How to access Blended Learning 'work from home' lessons:
How to access your Blended Learning lesson instructions and resources: Follow the instructions in the diagram below, starting with number 1, where the arrow points: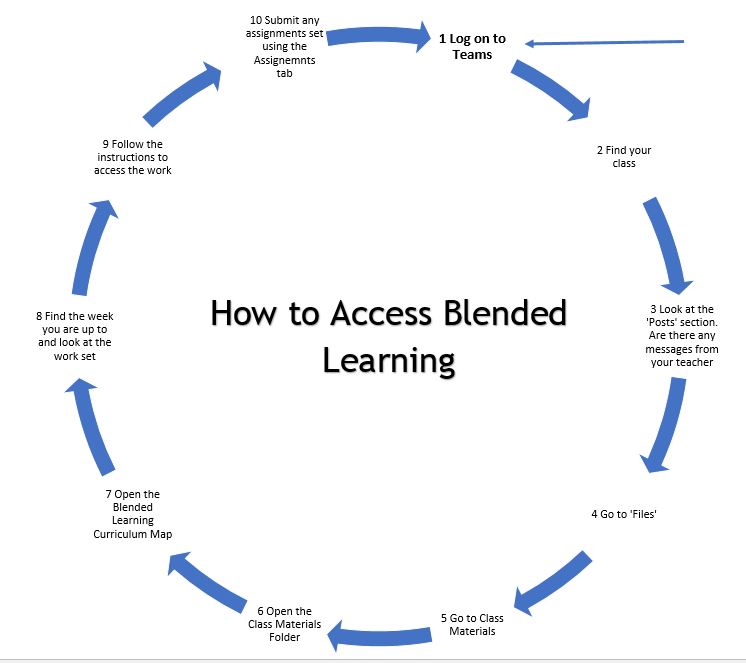 If you are learning remotely, where you are working from home, your teachers have produced all the resources you will need. This is what you need to do:
1) Look at your timetable. What lessons should you be having?
2) What week of the term is it? Count the number of weeks from the start of term. (E.g. September 21st is the start of week four in the Autumn Term.)
3) On the Teams home page, go to the class Team icon for the class you would have on this day, if you were in school.
4) Click on the Class Team page for the first of your classes on that day.
5) At the top of the page, you will see a Files tab. Click on it.


6) You will see a Class Materials folder. This is the folder where you will find what you need to do. Click on it.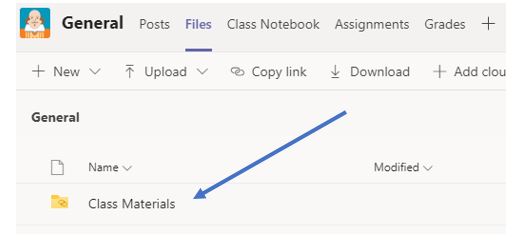 7) You should now see a Blended Learning folder. Click on it.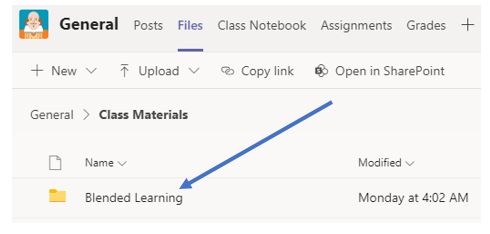 8) You will now see a folder called 'Blended Learning Curriculum Map'. Inside this folder will be the information you need, telling you what you need to do to access the lesson your teacher has prepared for you.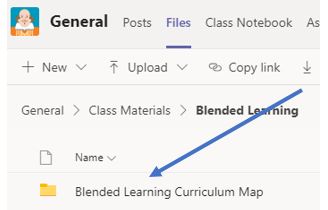 9) Open this folder. There will be a file with all the information you need. There will be instructions on what resources you will need, depending on the week of the term it is. Your teacher will also use the 'Posts' feature in Teams to guide you about your learning.
Your Blended Learning Curriculum Map will probably look something like this example:

Uploading an Assignment in Teams:
Your teacher can set assignments for you to complete. You can access these in two different ways. You can click the assignments button in the left-hand menu to see all the different assignments set by your teacher, or you can click into your class and click on the assignments button circled in yellow.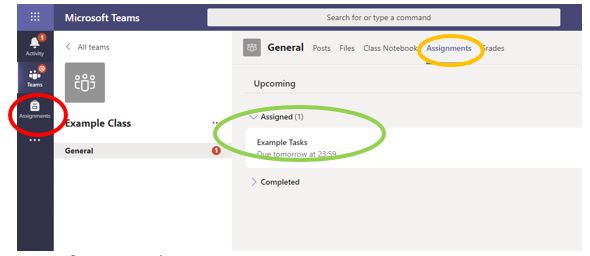 Click on the assignment to access the task.
To add your work, click on the add work. You can add a document that you have already been working on, or create a new one. Your teacher will have given you some instructions on how to submit your work.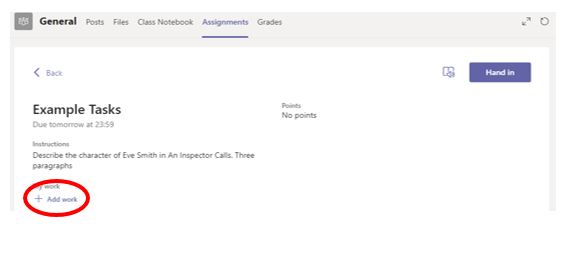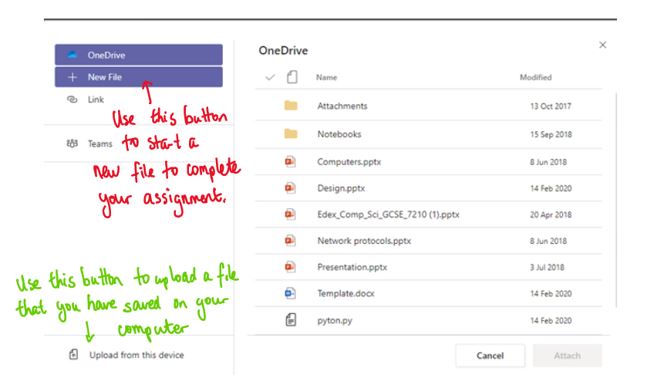 How to Join a Virtual Classroom Set-Up by your Teacher: